Birch Interface Users Manual
Information in this manual is up to date at the time of writing, but the user interface for this device is evolving as new features are being added, so please check back on our website from time to time. And, as always: Please reach out to us if you have any questions by email at
support@curdes.com
or by phone at +1 215-387-5456.
Introduction
The Birch interface is a powerful new optoelectronic interface based on our venerable FIU-932 interface, with an added single board computer and touchscreen for improved ease of use and new capabilities. It can be substituted in any system for a 932 (though support for some older legacy devices is not yet implemented). The basic role of this interface is the same as it was for its predecessors: it sends light out to the fiber-optic response devices, detects the light received back from them, and converts these signals into standard USB HID computer protocols. Unlike our earlier models, though, Birch has powerful logging and timing capabilities: it can act as a parallel recorder of subject response events, capturing button presses with 5 microsecond resolution at the same time that your psychometric software is presenting stimuli and recording responses. Events are logged to a thumbdrive for later validation of events as they were captured by the "stim" computer.
Connections
Bottom view of the Birch interface connectors:
Left side of Birch interface:
User Interface
This is what the screen will look like during typical response collection, with an eight button bimanual response device connected as an example: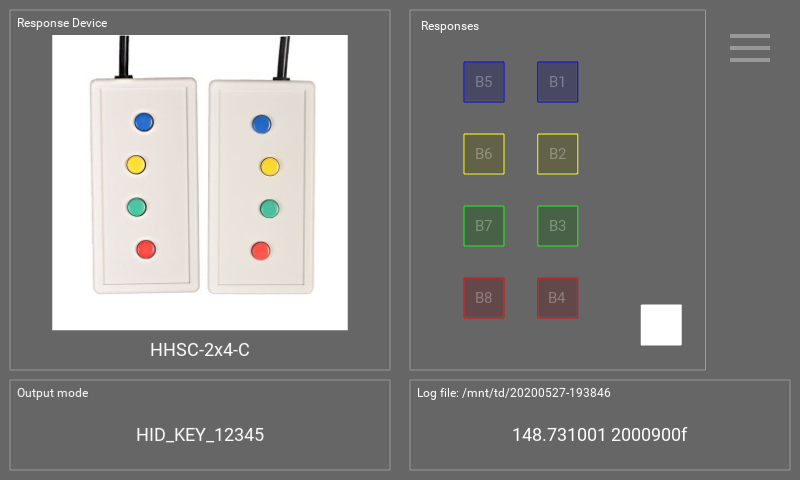 Setup
Please begin by mounting the Birch interface on a stand so that cables can "flow" downwards. Then connect the power supply (to P6 below) and press the power button (SW1), just to the left of the power supply input:
The system will take about 30 seconds to boot up after the power button is pressed. It is ready to use when you see a screen like this: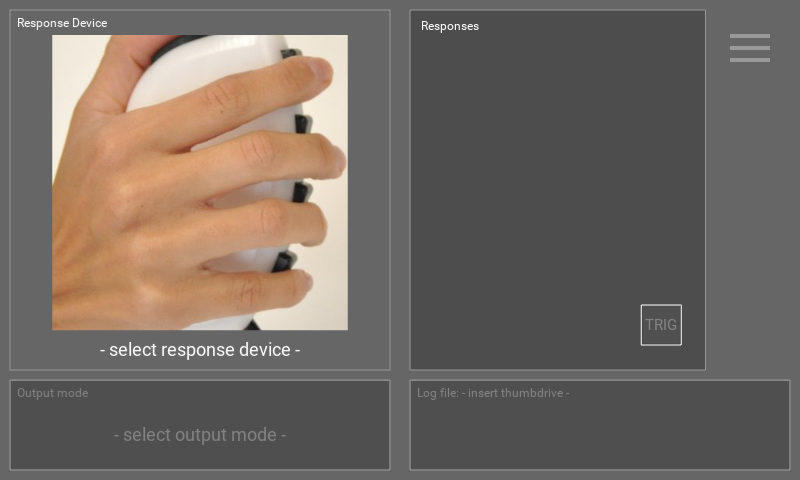 You will note that most of the screen is greyed-out: this is to guide the process so that you begin by choosing the response device to use. It is best (and simplest) to connect the removabel and the reposne device first, and then tap in the response device area on the screen and choose "Automatically" from the dropdown.
Connect the optical bundle and response device
Always connect the optical bundle and the response device before putting the interface into an operating mode -- this order is important because the interface will "look" at the optical connections when it is put into a user mode so you want to have the components in place then.
Configuration
First choose the response device by tapping in this area, and then choose Autoconfigure:
The device will be detected (by sending light to it and detecting the unique pattern of light received back from it): if the detected device matches the one you have connected, confirm it. Second, choose the output mode you want:
At this point you can begin collecting subject responses from the USB port. You will notice the log file area is still greyed-out: insert a writeable thumbdrive in the top left USB slots to enable logging. Data will be written to a file with a date-time formatted filename.
Updating
Updating is done through a wifi connection and is described in
UpdatingBirch
.
Legacy Device Support
By "legacy" we are referring to response devices with model numbers beginning with "HH-", as distinct from "HHSC-" devices. These devices were made in 2008 or before. We do plan to support them on Birch this capability will probably not be present in ealry releases of the user interface. If you have a legacy device for which you need support urgently please email us (
support@curdes.com
). We may be able to help you quickly.
Specifications
| | | | |
| --- | --- | --- | --- |
| | Specification | Value | Notes |
| 1. | Model Number | BIRCH-OIU | |
| 2. | Dimensions, overall | 9" wide x 6.5" tall x 2" thick | without stand or power supply |
| 3. | Weight | 1 lb 14 oz | |
| 4. | Power | 5 VDC @ 3A max | |
--
BenDugan
- 18 Apr 2023