Flashing 904 Firmware
This is a quick guide to help you install new firmware on an FIU-904 interface unit.
Get the firmware hex file from us
We will email you a "hex" file to install. Please contact us for this so we can help you make the best choice about what you need. Save the file to a location where you can find it on your machine.
Install Arkeya
Download and install Arkeya. Instructions for that are on the download pages for each operating system, here:
File Download Area
Once Arkeya is installed, you can check to make sure it "sees" the 904 which will be updated.
Confirm Arkeya "Sees" Your 904
When Arkeya is properly installed, and the standard USB cable is connected, you should see the 904 listed in the left hand side "Devices" list.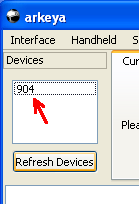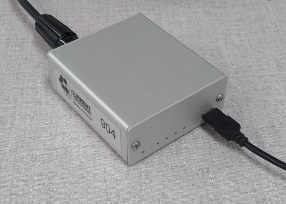 If the cable is connected but you don't see "904" listed on the left, first click the "refresh" button. Select the 904 device by clicking on it (red arrow).
Finally, go ahead and do the update
Use the
"Interface -> Update firmware from local file"
to do this update. You'll need to navigate to the folder where you put the hex file, and select it.
Please wait until the upgrade is complete
before trying to use the 904. (Please avoid the "Interface->Update Firmware over internet" option; that may install out of date firmware.)